<![if !vml]>

<![endif]>†
ABOUT THE AUTHOR
<![if !vml]>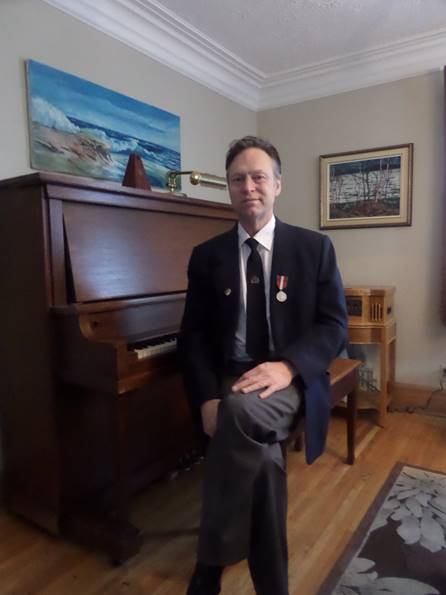 <![endif]>
...the wearing of the pins.
Photo by C. Stevenson
2015
Iím happy to have received the following awards over the years...
†††
2013 - Ontario Heritage Trust "Community Heritage Achievement Award" presented by the Mayor of the City of Hamilton, for Clayton's initial role in saving the "Westbrook House," which was the last surviving building from the 1812 era, located at the site of the last battle fought on Canadian soil against a foreign power ("The Battle of Malcolm's Mill, Nov. 6th, 1814). The building was constructed about the year 1810 in the village of Oakland, Brant County, Ontario. It has now been re-constructed at the Westfield Heritage Village in Rockton, Ontario.
2013 - "Queen Elizabeth II Diamond Jubilee Medal," presented by His Worship, Mayor Ron Eddy of the County of Brant, for Clayton's life achievement and volunteerism in heritage in and around Brant County.
2012 - National Achievement Award (Heritage) nomination.
1997 - Ontario Heritage Trust (formerly Ontario Heritage Foundation) "Community Heritage Achievement Award" presented by the (former) Corporation of the Township of Burford for his initiating / inspiring the movement to form an historical society in the geographic Township of Burford, in 1986. (Note: "lighting the wick" is their exact wording)
1995 - Nominated for the Ontario Historical Society's "Cruikshank Gold Medal" and "Carnochan Award."