<![if !vml]>
<![endif]>
<![if !vml]>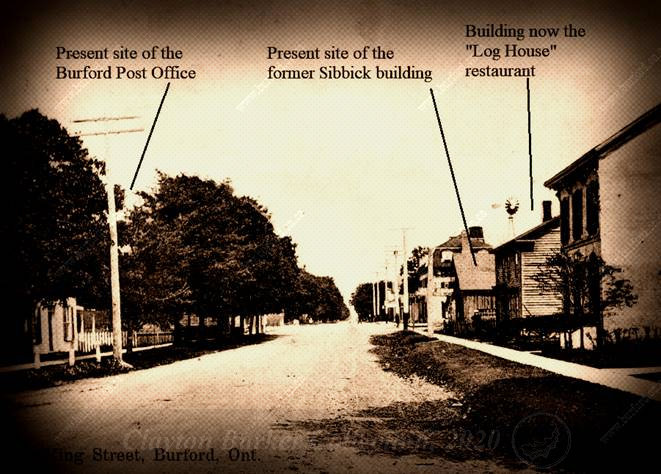 <![endif]>
Taken about 1905, The second building from the right is the old Claremont House, now the present-day Log House Restaurant and Sports Bar (Photo courtesy of Helen Scott).
YE OLDE
 CLAREMONT HOUSE
 HOTEL, EST. 1845
Copyright   © 2009 - 2020 by Clayton Barker
(Published in the Burford Times in 2008)
The original two-storey main building portion of this local establishment was originally the "Claremont House" hotel, stage-stop and tavern in the mid to late 1800's. It appears that this property was severed off of the main lot (lot 4, concession 7) about 1845 being owned at that time by Robert Hunt Sr. Since this building is a regency building in style and era, it is likely that it was constructed about 1846 shortly after the property was created. Robert Hunt was actually a "Cordwainer" and shoemaker (known as a cobbler) however, in those days anyone could open an Inn and then get a licence for a tavern and also carry on another business on the side. There were many examples of this in Burford.
<![if !vml]>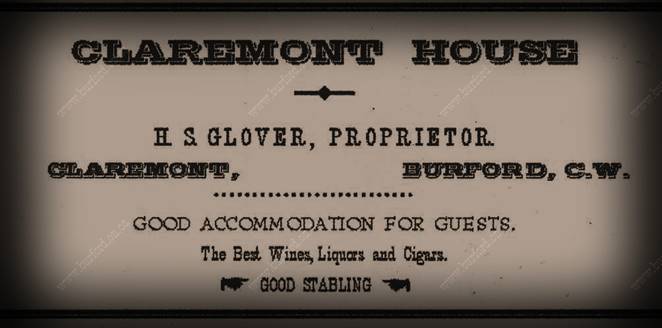 <![endif]>
Advertisement in the Brant County Gazette 1869.
CLAREMONT  VILLAGE:
Roughly about the same year that Robert Hunt settled in Burford, Burford's name was changed on the map to "Claremont." It has never been recorded exactly how it's name was changed, or why or who changed it or what it was named after, however coincidentally Hunt's father, according to genealogical records, James Hunt, is believed to have hailed from a place called Claremont County, Camden District (now Sumter District) South Carolina. It was normal in those days for prominent businessmen to take it upon themselves to promote the re-naming of a community, mainly because of their influence and the landmark status of their establishments etc.
CLAREMONT HOUSE:
According to the 1858, Tremaine's Map of Brant County Robert Hunt operated the "Claremont House" while William K. Kerby operated the "Kerby House" at the south-east corner of Maple Ave and King Street. Kerby had formerly operated a hotel in a building which stood out King Street West, North side of the road. Alexander Dickie operated another frame constructed hotel and tavern in between Kerby "s and Hunt "s at the south-west corner of King and Maple Ave. from about 1833. Therefore, there were at least five or six fairly large hotel buildings just in the village alone, in the late 1840 "s: The Western Hotel, Alexander Dickie's, The American House, The Kerby House, and Claremont House, and there was another one on the north side of the street, beside Kirkland "s and Catton "s general stores was Joseph Loney's hotel.
The Claremont House was also referred to as "Hunt" s Tavern" as early as 1859 when the very first Burford Fair formal dinner was held there, with all the dignitaries etc. Note: Burford's first fair was held actually in Claremont on October 5th, 1859 and not in 1858 as was always thought, – [see further information about the early Burford fairs in another section of this book].
The Hunt building was considered a fairly large building in those days and consisted of a great room, kitchen and parlour and bar room on the main floor, with a one-storey shed on the back, and four or five bedrooms on the second floor. Later on, a corridor was built to divide the east bedroom to provide an exterior access stair from the outside to the second floor. This was for those who rented rooms to be able to go up to their room without having to walk through the main entrance hall. During the Second World War, two members of the airforce apparently were billeted there.
Robert Hunt owned this property until he passed away and his son Robert James Hunt took it over and sold it to Allan D. Muir a couple of years later in 1909. In 1912 Mr Muir sold it to Ellen Farrell, wife of John H. Farrell. Mrs Farrell passed away in 1923 and she left her property to her daughter Mildred (Minnie) who was considered too young to own property at the time (had to be at least 21) so for a few years, the property was in the name of a guardian until she reached the age of 21 or it would be converted to money. She married Andrew Wise and later in 1927 sold the place to Albertha Wingrove. The Wise family operated a confectionery and ice-cream parlour and constructed a frame one-storey addition to the east side of the old building.
<![if !vml]>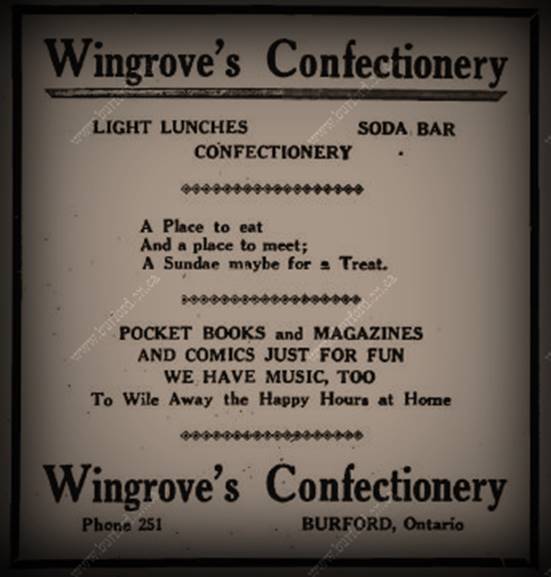 <![endif]>
1928 Burford Advance advertisement Wingrove's Lunch & Confectionery.
WINGROVE'S CONFECTIONERY:
The Wingrove's originally lived in a house just south of the railway tracks on Maple Ave in Burford then they moved to a farm south of Gobles in the early 1920's and Albertha's parents came to live with them. Her father was John Henry Taylor, from Yorkshire England, who was a weaver. People used to bring him their rags and he'd weave them into carpets. However, the Taylors both died and then Albertha's husband died in 1927, so with the help of an uncle, Mrs. Wingrove with her daughters: Hazel, Edna and Dorothy (aged 11 years and younger) traded the farm for the former Wise family confectionery at Burford.
At first, the Wingrove's rented it out for the summer, and then in the winter, they opened the confectionery. When they moved in, there was a sign hanging in the window of the shop that said "meals at all hours" and every now and then someone would come to the door at 3 am wanting to come in for a meal, so they got rid of that sign!
<![if !vml]>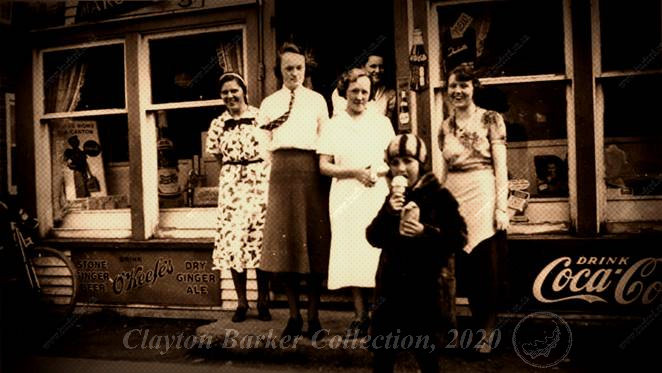 <![endif]>
Opening of the soda fountain, pictured here are Jean Wingrove, Edna Wingrove, Hazel Wingrove and Albertha Wingrove and Marie Hobson and an unknown girl eating an ice-cream cone with a fur coat on (photo courtesy of Dorothy Ion)
<![if !vml]>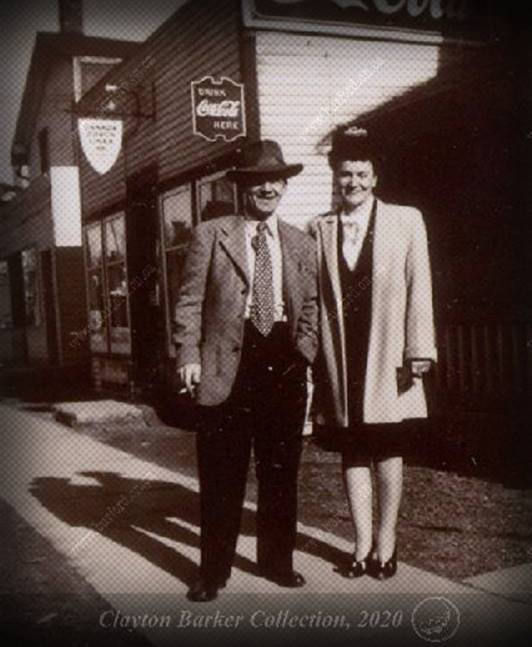 <![endif]>
Vince and Dorothy Ion c1955 in front of the Wingrove's Lunch & Confection. Notice the Canada Coach bus stop sign hanging over the front.
In 1944, Albertha passed away, and Dorothy Wingrove took over and later married Vince Ion and they operated the confectionery with a lunch counter until 1957 when they sold it to Brock and Mira McLaren. Vince was from England and served during the War. At one time he lived in the Cornish House Hotel two doors east of the Wingrove store, where Vince looked after the billiard room.
It is interesting to note that in the 1950's, Vince set up a "Liberal Headquarters" in the dwelling portion of the Wingrove building, which was short-lived due to the complaints from the Conservative next-door neighbours. He posted a huge banner to this effect across the top of the porch, presently the outside eating area for the present Muirs restaurant. Vince and Dorothy eventually purchased the place across the road, which is the house just west of the Toronto Bank and Vince opened a men's clothing store in the building next to the Post office. Vince's store was around until 1973.
<![if !vml]>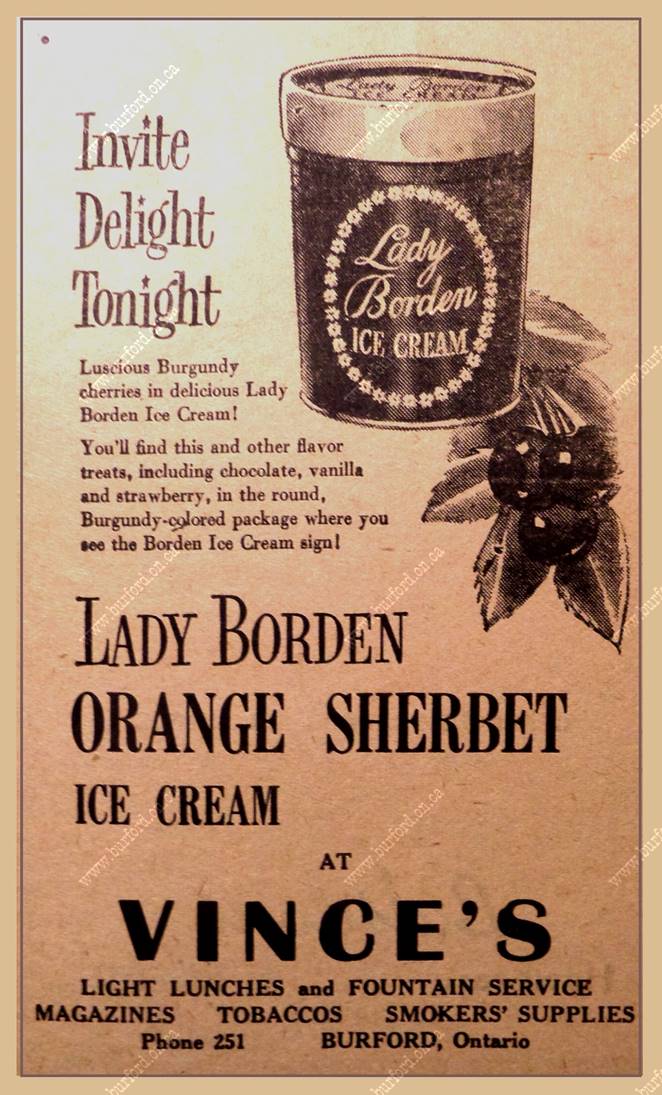 <![endif]>
1952 advertisement for Vince Ion's Lunch counter and Confection
McLAREN'S   LUNCH:
Brock and Mira McLaren took over the Wingrove Confectionery and Lunch Counter in 1957. The McLaren's added a concrete block (fireproof) section onto the back as a storage and also a dining room area. At that time there were a lot more places to eat in and around Burford. I remember as a kid in the early 70's that there were at least four places where one could get a hamburger and French fries: Box's, Dot and Dave's, Hunt's and the Hitching Post. There was also George and
Mary's at Mt. Vernon. At one time, there was even a fish n'chip place across the road from Muirs, on the property where the TD Bank is presently located. It was operated by a Mrs Chambers (also the site where the famous Hearne murder took place in 1957). During all the excitement caused from the Hearne Murder McLaren's was packed with people from the press and bystanders.
Though McLaren's had four or five people working for them at one time, Mira had to learn the restaurant business on her own at first, as Brock was still working in Brantford. Many days, she would have to have ten pies made. When it was Vince and Dorothy Ion's lunch counter, Vince only made sandwiches and simple lunch favourites such as his speciality, which was toasted bacon and tomato sandwiches. Brock was later approached by the Township who offered a position for him to become the building inspector, which he accepted.
HOME COOKED MEALS
Come in and try our Daily Luncheon Special
Sandwiches, French Fry's, Soups Ice Cream Dishes and Homemade Desserts
GIFT ITEMS
Come in and see our many Gift Items for All Occasions
McLAREN'S LUNCH
Brock and Myra McLaren, Proprietors
Home Cooked Meals, Fountain Service
Magazines, Tobacco, Smoker's Supplies,
<![if !vml]>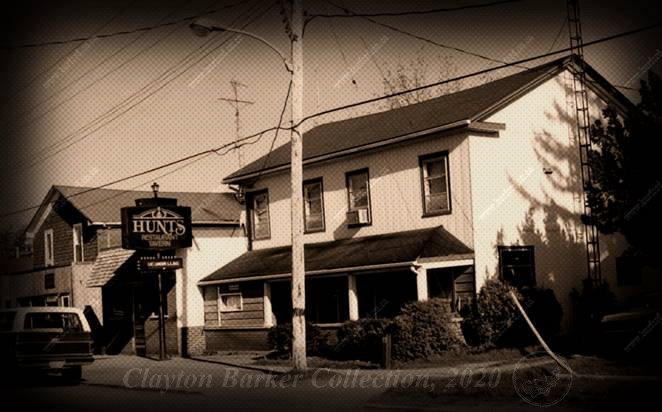 <![endif]>
1989 view of the Hunt's Tavern Establishment
(photo by Clayton Barker)
HUNT'S TAVERN:
In 1968 the McLaren's sold the establishment to Jack Hunt. Jack coincidentally is related to the original Hunt family that settled here in Burford. The Hunts renovated the interior of the place considerably and created an  "Amber Room" themed dining area because Betty loved amber coloured things. The half-timber look and carpentry work was done by Joseph Coates, a local house builder and founder of Coates' Quality Homes. The renovation was completed with amber glass accessories including amber Plexiglas transoms for a bar area, amber glass ashtrays and salt and pepper shakers.
The general public really loved those and Jack says every once in a while, some would come up missing during the course of a day. Even to this day some of those ashtrays and salt and pepper shakers are turning up at local yard sales according to the Hunts!
It was during Jack and Betty's ownership that this establishment became a licensed Tavern. After about a year of having the Lunch Counter / Restaurant and Confectionery, Jack was approached by a man who drove a Labatt's truck and was persuaded to licence the restaurant for liquor.
It would be a difficult job getting a licence of course as he would have to attend three hearings at St. Catherines and of course there was a chance that someone might submit a formal objection. At that time, the L.C.B.O. was looking for land in Burford to build a liquor store and the only other licensed place in the village was the Legion. In 1973 Jack sold the Tavern to Umberto Costabile and eventually the old frame constructed east section was demolished and a concrete block and brick modern section built. The establishment went through several different ownerships in the next 20 years.
RICK'S PLACE:
Rick Westbrook took over in 1995 and the name of the former Tavern stand changed to "Rick" s Place." It was no longer a licensed establishment, but that didn't seem to affect the number of regular patrons. Right off the bat, Rick had the interior completely re-decorated and many upgrades done. Rick's Place became a quaint spot in this part of the County to dine or just come to "chin-wag" and meet friends. It was a popular place especially for church groups and the Rebekah's Annual Christmas dinner. Fridays was always packed because of Rick's famous olde English styled fish n" chips, which was an excellent drawing card! However, all good things must come to an end, and thirteen years later, Rick put up a "for sale" sign and like the changing of the tide and the times and the olde cobbler who originally built it, Rick's Place passed into history.
<![if !vml]>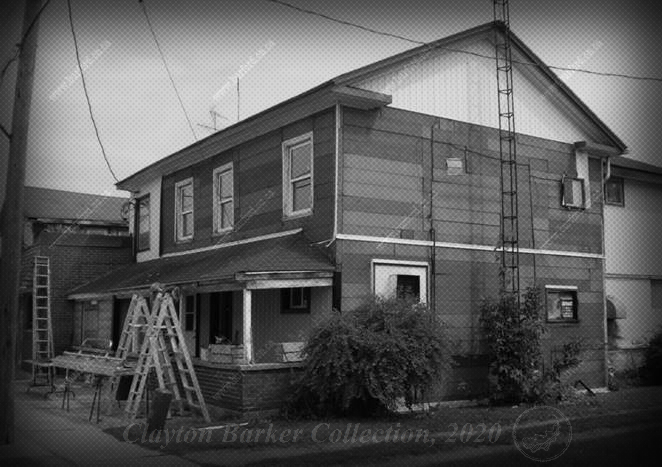 <![endif]>
September 2008 (Note the c1960's wall finish layers found below modern siding.) C. Barker photo.
MUIRS:
In 2008, Ted and Nuala Muir became about the 17th owners of this establishment and once again it was renovated (inside and out) and Licensed for a sports bar, along with the restaurant establishment. Coincidentally, just as Jack Hunt was distantly related to the original Hunt's that built it, Ted is distantly related to the third owner, A.D. Muir. They opened their doors January 5th, 2009 following extensive interior renovations which included a new bar area, dartboard area and restaurant booths. Much of the interior renovations were completed by local carpenter Karl. Today, Muir's is a great place to "Eat, Drink, Chill." Right from the start, many have said, after going to Muir's for the first time, that it is like one has left Burford and has stepped into a very pleasant "parallel dimension," within our midst, which is refreshing.
<![if !vml]>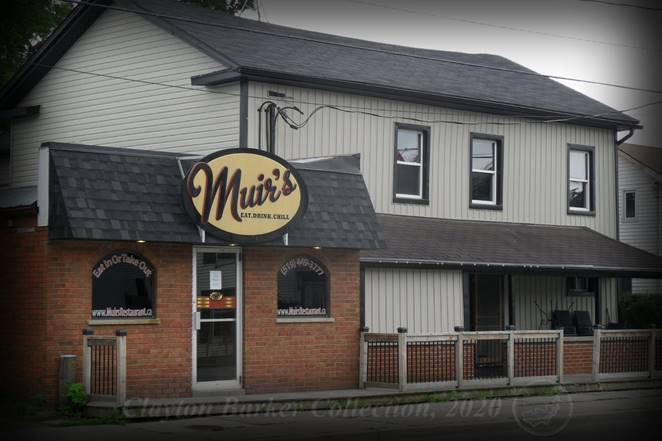 <![endif]>
2009 view of Muirs Restaurant and Sports Bar
Photo by Clayton Barker
DISCLAIMER
The information contained on this page represents the research findings and opinions of the author. The material on this page reflects the author's best judgement in light of the information available at the time of compilation. Any use of this material made by a third party, or reliance on, or decisions made based on it is the responsibility of such third parties. The author accepts no responsibility for damages, if any, suffered by any third party as a result of decisions made or actions based on this work.