<![if !vml]>

<![endif]>
<![if !vml]>

<![endif]>
BURFORD BOYS
on Leave in U.K. Visit Their Ancestral Scarborough, During Two World Wars: Part 2
------------------------
The following is Copyright © 2015 by Clayton Barker, all rights reserved. It was published on the editorial page of The Burford Times, Nov. 12th 2015, in Burford, Ontario, Canada.
<![if !vml]>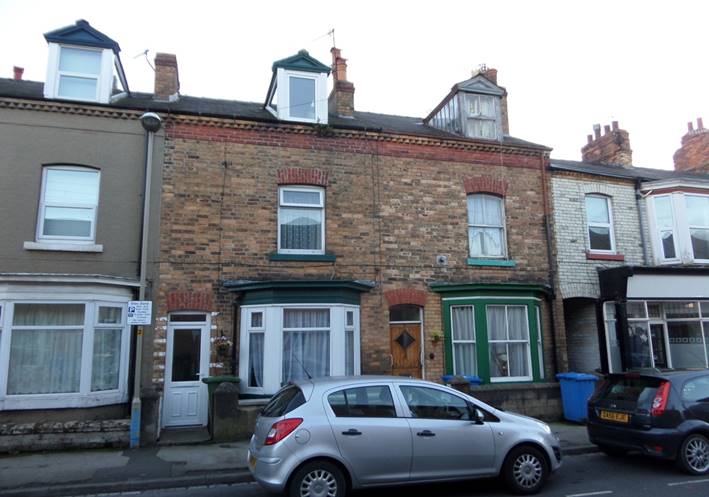 <![endif]>
#8 & #9 Barwick Terrace, Scarborough, U.K.
Where Alice Ann Sawdon and her three daughters kept a boarding house during two World Wars.
Photo by C. Barker, 2015.
The first time I ever knew about these relatives, the, Sawdons of Scarborough U.K., was from my grandfather Luther Barker, who knew of them through his first cousins, Maitland Brooks and Howard and William Disher who had been stationed in England during the First World War and billeted at their place. I was helping my grandfather compile his memoirs at the time and was interested in also compiling a family history to go along with it.
Maitland Brooks (my first cousin twice removed) used to be a "fixture" in Burford Village, after he retired from farm life, and would walk up Maple Avenue every day to get the mail and gossip and tell his yarns and funny jokes. I had many a "chin-wag" with him in 1985 while I was a college student surveying the Congregational Cemetery for the Township of Burford. He would stop at the fence to tell me a joke and would point out that at some funerals he had attended, there at the Congregational Cemetery (pointing to the front row of tombstones) there was at least one or two more bodies below the one being buried…whether this was a joke, I'm not so sure now after visiting my ancestral area of Scarborough, England, because I was shocked to learn that they weren't kidding when they said they buried their dead on top of each other sometimes three-deep or more! Edwin Cooper was also heavily involved with recording the history of the church and cemetery there at Staxton and is, or perhaps was, the Clerk of Willerby Parish (the parish of which my ancestors belonged) and Edwin told me that there could be about 8000 people buried in his churchyard at St. Peters Church yard, which is only a couple acres in size but is over 600 years old. Down the lane from that church, there is actually a Roman cemetery which is now a farm.
<![if !vml]>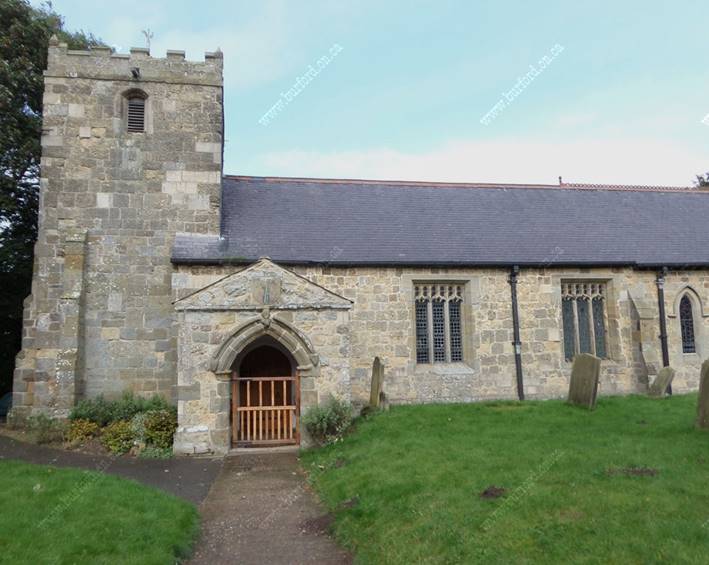 <![endif]>
St. Peters Church, Willerby Parish, Yorkshire England.
Photo by C. Barker, 2015.
Maitland loved telling funny yarns, but when his yarns seemed to originate from actual genealogical facts, I would pressure him for the truth and more details! He told me that while stationed at Scarborough Yorkshire England, during the First World War, he walked up the beach to Scarborough Castle, where he came across a human skull. He said that "half its jaw was worn away, so it must have been a woman, because she was a real talker!" I thought it was funny, but he went on to tell me that he was billeting with two other soldier relatives of ours, at a distant Barker relatives' place there when he was on leave in Scarborough. This intrigued me, and I often thought I should try to capture Mait and make him tell me more about those relatives.
Three years later, he was 98 years old and on his death bed, at St. Joseph's Hospital where I visited him. He wanted to tell me all the facts about all the yarns and stories, though he still told the funny versions and chuckled like always. I went to leave after I felt I may be wearing him out, but he grabbed my coat and told me to stay, so I asked the nurse for a paper and pen and I wrote everything down that he had to say…even the jokes!
So, about this time period, WW1 1917-18 in the U.K., as I had said, the city of Scarborough had been shelled frequently, previous to Mait's visit. I also had mentioned about Alice Ann Sawdon, a distant Barker cousin of ours, who was keeping a boarding house there. Mait said Alice had three daughters: Hilda, Elcy and Olive. Olive (Sawdon) Wilkinson's husband was on the Scarborough police force. He also mentioned that one or all of the daughters, had worked in a millinery shop where they would make 10 shillings per week. But of course, Mait had to include: "the woman who ran the shop made more than that on just one hat!"
Elcy, I believe was the youngest as she was still at home during the Second World War when other relatives billeted there. Elcy had been "shell-shocked" by the bombing of the area perhaps near her workplace, and it affected her, the rest of her life. She was quiet, hardly ever said anything, but only went about what she had to do and did what anyone told her to. She spent much of her later life in a hospital and passed away there in 1981. It must have been such an exciting time, being visited by these uniform-clad "far-flung-relatives" from Canada!
At the end of their stay, at Alice's, the boys wanted to give Alice a nice gift to remember them, so they asked the daughters "what would Alice appreciate the most?" The daughters thought a while, and then one of them said "I suppose a bottle of something nice!"