<![if !vml]>

<![endif]>
BURFORD BOYS
on Leave in U.K. Visit Their Ancestral Scarborough, During Two World Wars: Part 3
------------------------
The following is Copyright © 2015 by Clayton Barker, all rights reserved. It was published on the editorial page of The Burford Times, Nov. 19th 2015, in Burford, Ontario, Canada.
<![if !vml]>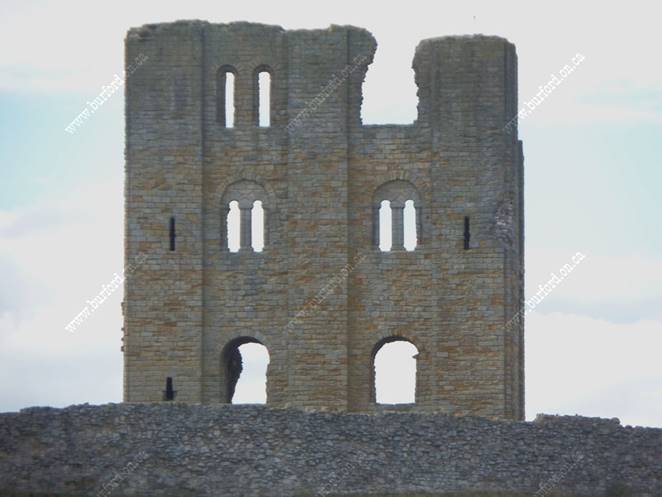 <![endif]>
Scarborough Castle, U.K.: The site of the castle / fortification had seen the Vikings, the Romans and several Kings had been there at this Castle, including King John and in 1484 King Richard III was the last king to stay at the castle, where he assembled a fleet to resist the invasion of Henry Tudor, later Henry VII. Note: Scarborough has a link to Burford's history, besides my family - King Richard III's direct descendant (Richard Henry Plantagenet Somerset) is buried in Holy Trinity Church yard, in Burford. Photo by C. Barker, 2015.
According to Genuki (a U.K. genealogical website) hotels and boarding houses in Scarborough were full of civilian visitors on the first Christmas of the Second World War; however throughout the remaining years of the war, they were taken over by the military for the billeting of the armed forces. "Scarborough had become a prohibited area and it was difficult for anyone to enter without a lot of questions being asked."
The blackout had been in effect from the beginning of the war, whereby householders and businesses were told to make sure that no light could be seen at all from the exterior of their place. Thick black or brown paper was mounted onto wooden slats and fastened over the windows.
In March of 1941, When the big air raids hit Hull (a major target for the Germans) the glow from the fires could be seen from Scarborough and people went out into the night (without flashlights or street lighting of course) to view the red sky. Only days later, Scarborough suffered its worst air raid, March 18th 1941. This raid became known as the "March Blitz" and an eye witness wrote that "Jerry' decided to offer Scarborough a chance of redevelopment." The incendiaries, known as "breadbaskets" showered on all parts of the town and people in the streets strived to put them out. These were weapons designed to start fires or destroy sensitive equipment using fire. They were seen bouncing or rolling down the Castle Hill by the thousands and they burnt themselves out on the streets below (Genuki / BBC).
Going back to the final part of the story, two other "Barker" cousins from the Disher household also found themselves billeting at "Alice's" boarding house in Scarborough U.K. during WW2. Esther (Barker) and Almond P. Disher's daughter Edna married Johnathon Hall and their sons F.O. Almond Mackenzie ("Mac") Hall and Cpl. Thomas Howard Hall were these two cousins. It was their sister, the late Esther "Marion" Hall (a well-known member of Burford United Church), who put me in touch with Howard, who told me the following:
The Hall brothers were on leave at Scarborough and it was Christmas (Unsure of the year, possibly 1940). They started out from King's Cross Station, at London at 12am, on a night train to York, then on the "milk train" to Scarborough. As he said, "they were on the move all night." They arrived at #8 or #9 Barwick Terrace (The Sawdon place where they were billeting) at 7am.
By now, our dear Alice must have been fetching a ripe old age (perhaps high 90's). Howard said she was a "tiny woman" but had a big laugh! She and her daughter Elcy waited in anticipation for the boy's arrival and a very heart-warming Christmas family reunion as well. They had written to Elcy back and forth and Elcy could hardly wait to meet them in person.
As the Hall brothers came down Barwick Street to Barwick Terrace, with their backpacks on, all loaded up with packages of items to give to Alice and Elcy, everything was covered in snow. They realized that it was extremely hard to read the house numbers, which were white porcelain or glass numbers, on white-painted/plastered stone private gate posts amongst all the snow. It was still dark out and they were not allowed to use flashlights (hand torches the English call them). The Sawdon's place was part of a townhouse.
When they finally got to the Sawdon's and knocked at the door, the door burst open and Elcy jumped out screeching "eet's 'oward! eet's 'oward! 'ees com', 'ees com!" She was so excited to finally meet them in person. She and Alice spent that day, preparing everything for the soldier cousins, including the beds for the men, so they would be able to "crash" as soon as they arrived, since they had travelled all night. However, Elcy apparently forgot to wrap the bed-warmers, she was so excited, and Howard said he nearly burnt his feet off!
Howard and Mac felt like Santa when they gave Elcy and her mother all the goodies they had brought with them, such as packages of tea and coffee. They even gave them their own ration tickets, so the Sawdon's could buy some of the finer things to have for the Christmas season, like beef or turkey, nuts and raisins, etc.
During the evening, when everyone had to be kept inside and in the dim light, with their blackout curtains pulled tight, they wanted to be able to go out and get a drink at a pub, but weren't allowed. Besides, the pubs were likely closed early anyway as it was winter and it got dark early. They weren't exactly bored, but after such a journey, and it was a family reunion, sort of, they wanted to liven things up and get into the Christmas spirit! So Alice said for one of them to "climb up and reach intoa cupboard and bring down that 'old bottle' and see if it was still any good!" It was the same one that their cousins from the previous World War had given her, 23 years earlier.