<![if !vml]>

<![endif]>
HERITAGE  
PROJECTS
<![if !vml]>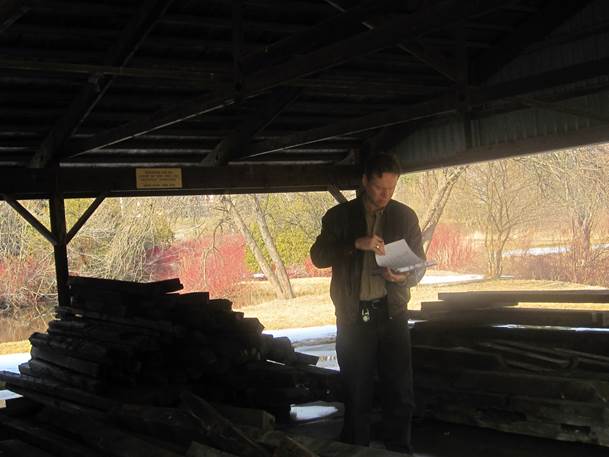 <![endif]>
Taking inventory of wood components of the Westbrook House, while temporarily stored at the pavilion in the Lions Park, Oakland, March 9th 2010.
Photo by D. Atkins.
Some recent projects include...
<![if !vml]>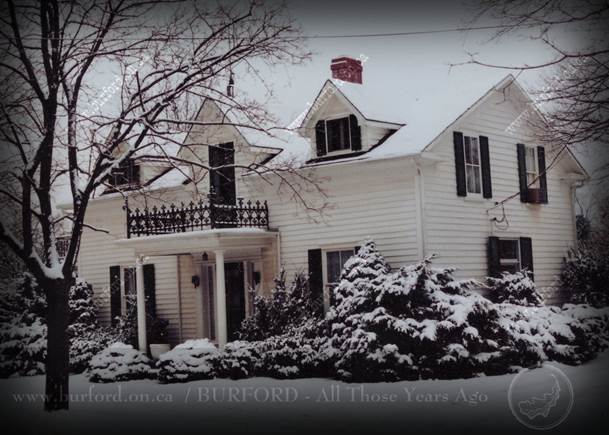 <![endif]>
Former Miles family residence, King Street Burford. Photo 1990 by Clayton Barker
2018: Documentation of the former Miles house, King Street West, Burford. It had been constructed some time between 1856 and 1865, so let's just say "c1860." The Miles family had owned it for over 130 years and after it was sold, about 2010, it remained empty for eight years decaying, until it was finally sold to a home building/renovation company that amazingly put it back to its former splendour. Though the interior was entirely renovated, the exterior was touched up and repaired and re-painted, which is not normal procedure for these days! They did an awesome job.
<![if !vml]>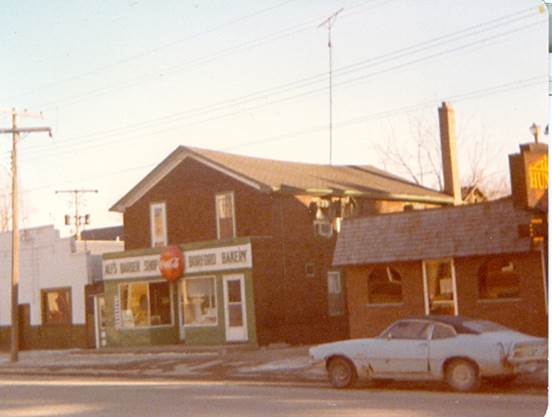 <![endif]>
Former Burford Bakery and Miller's Barber Shop. Photo by C. Barker, 1979.
2017: Documentation of the former Sibbick's Antiques building, King Street Burford. In recent years, was a barber shop and bakery, however over one hundred years ago, prior to 1915, it was a cooper shop. When the property was purchased to make way for a "brand new" Post Office and Federal Customs Office building, it was turned sideways and moved across the street and converted into a "Chinese Laundry." 
     Actually, there is a good chance that this could very well be one of the earliest frame-constructed buildings in the village, as it had sat quite a distance back from the road when it was located where the Post Office is now, and was in the general location of the site of one of Burford's earliest merchant's (Cicero M. Ives) store building and residence. It is possible that the Ives family built it sometime after they had set up a saw mill on the Whiteman's Creek, just north of the present main intersection of Burford.
     Based on evidence found both when I had conducted interior observations of this place in the winter of 2017, and at the time of its demolition, in October 2017, I believe that it may have been built sometime between 1820 and 1830.
<![if !vml]>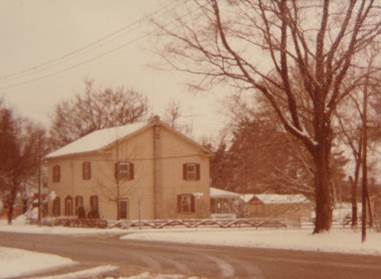 <![endif]>
Photo by C. Barker,
View from Potter Drive, 1979
2016: Documentation of the former Weert family home (Durham residence of the 1960's) #2 Jarvis Street. Built sometime in the early part of the 19th century, it is now potentially either the oldest remaining building in the village, or the second oldest building in the Village of Burford. It is also one of the oldest remaining former commercial buildings of the region.
CORRECTION:
Possibly built 1822/23 by Nathanial Ives or Cicero Ives. Was later owned by the Catton family and may have been utilized not only as a store, but also a Post Office and Hotel. It has been a residence for over 100 years. [Note: it has been recorded in older histories that it was built by Richard (Dick) Catton, however based on physical evidence, found during my observations of the building in 2015-16, it was probably constructed sometime before 1830. There is specific evidence showing that its construction is consistent with a building built about the early 1820's, and not built in the 1850's or 70's by the Catton's. Richard wasn't born until the early 1850's and his father didn't purchase this property until 1848. The Ives family, Nathanial, Cicero M. and Nathanial J., came to Burford about 1817, and along with the entire lot 4, concession 6, they also purchased a 10-acre strip of land off the east side of lot 5, where this building is located on the very south-east corner. Nathanial Ives was a miller, Nathanial Jefferson Ives was a merchant as was Cicero.]
<![if !vml]>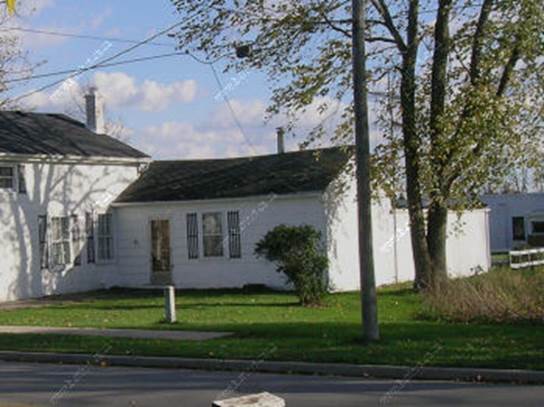 <![endif]>
Photo by C. Barker,
View from King Street, 2008
2015: Documentation of what was probably the oldest remaining building in the village of Burford, prior to it being demolished in 2015 (opposite #200 King Street). It is the west wing of what was the former Fritzley family residence. The larger portion (built c1848) of the building still remains however, it has been totally renovated. This section was added to the smaller original building as a general store and at one time it became a boot and shoe (cobbler) shop. The building that was removed had a very important place in the evolution of the Township being one of the earliest commercial buildings in Burford Township.
<![if !vml]>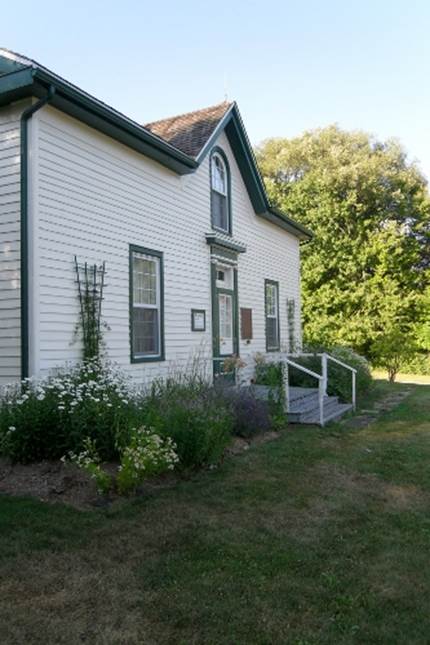 <![endif]>
Adelaide Hunter Hoodless Homestead,
St. George,
2011: Documentation and restoration of this historic building. It had undergone various renovations over the last century and a half, but in 2010-11, it had a good going over, including selective clapboard replacement and a sparkling new paint-job, which of course, yours truly participated in...
<![if !vml]>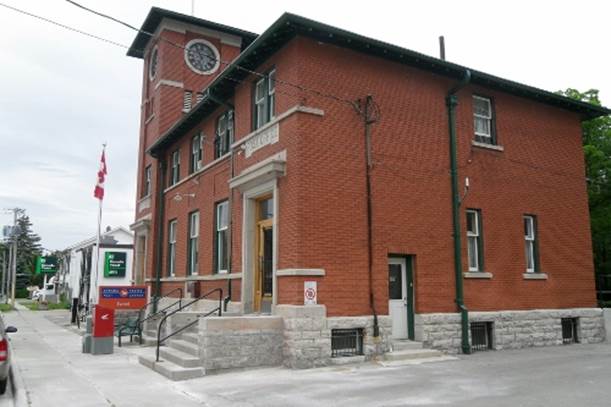 <![endif]>
Burford Post Office, built 1916 (though the date stone says 1914). Photo 2011
by C. Barker
2010: The Post Office building, built in a Public Works Vernacular style (post Edwardian) was in need of several fix-ups and restoration. I was very pleased when the Federal agency in charge of the work contacted me to get my input and advice of heritage colour and choice of material for the reconstruction of the front steps. Though the corner stone (date stone) reads "1914, the construction of this building commenced in 1915 and it was completed in 1916.
<![if !vml]>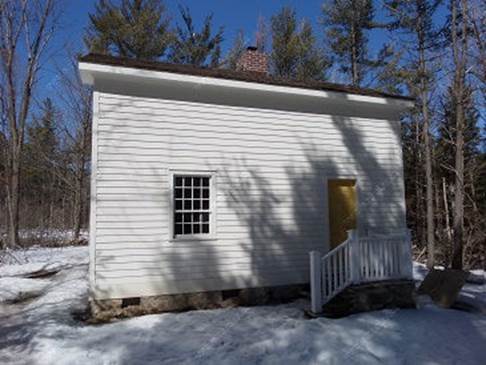 <![endif]>
Photo by C. Barker,2014
At Westfield Heritage Village
Rockton, Ont.
2005 – 2012: Documentation and deconstruction of a hired hand house on the Chary farm, Oakland Ont. Former Westbrook house built c1810, at the site of the last battle fought on Canadian soil - "The Battle of Malcolm's Mills."  Click this link to go to The Westbrook House, c1810 page